November 30th, 2021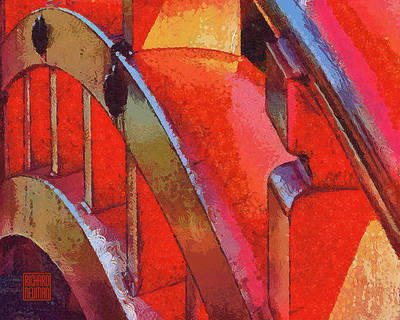 Facebook is now Metaverse. They proclaim it is something new, the future, the next big thing. Providing the "real" world resembles that in the film "Ready Player One", I can understand the hopeless and bored would gravitate to such a metaverse in large numbers.

The media and large tech are actually latecomers to creating metaverses. Visual artists have been creating them for eons. We call them paintings and photography. Looking at our images one can easily enter a place removed from the "real" world. Here time stands still, dreams are born, emotions heightened or calmed… all without a strong internet connection! Losing oneself in an artist's framed or unframed metaverse is private untracked for commercial or governmental uses.

We artists may not be billionaires, but we have always known a good thing when we see it.

June 17th, 2021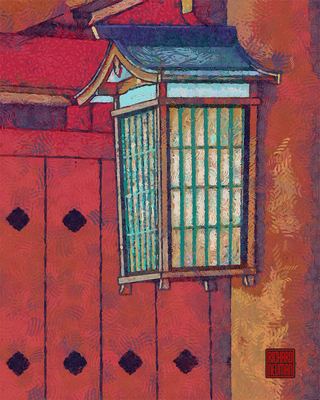 Famous for its hundreds of tori gates forming orange tunnels winding through the hills, the Fushimi Inari Taisha Shrine in Kyoto, Japan overflows with countless other beautiful sites when one begins to view its architectural details. Here centuries old wood craftsmanship becomes a colorful bold modern abstract painting!
June 12th, 2021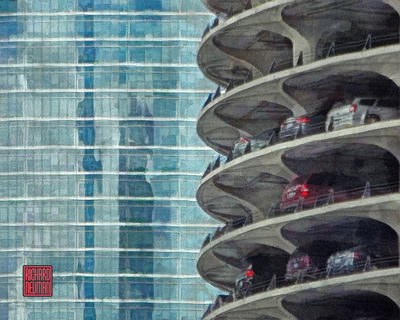 In his famous poem "Chicago", Carl Sandburg begins describing the city as "hog butcher to the world". The once apt title proved transitory, however, home to innovative architects and architecture continues to meet the test of time. Not long ago a Chicago friend and I enjoyed a stroll along the river as it meanders through the heart of the city. Surrounded by the hum of commerce, rises the Marina Towers, an apartment building and parking garage built decades ago. It looks as if it could have been constructed yesterday. The curved shapes are soft, soothing and inviting compared with the sharp edged boxy shapes around it. My close focus of the scene not only highlights this contrast, it creates a beautiful architectural abstract photo painting. May you enjoy this tiny view of Chicago buildings without the sounds of honking horns.
June 7th, 2021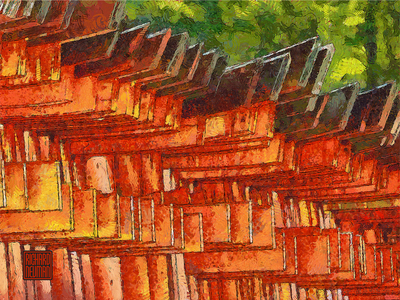 The torii gates at the Fushimi Inari Taisha Shrine in Kyoto, Japan are unique and attract thousands of visitors annually. Spaced but a few feet apart, they remind me of bright red orange "slinkies" spread out over the mountainsides. Those that care can walk through these torii gate tunnels for lengths of time as there are thousands of them. By the excitement and smiles on faces I got the impression the mood here is one of fun, happiness, gaiety and "I need to get my picture taken inside this tunnel". I had precisely the same feelings. While almost all remained inside the torii gate tunnels, my adventurous spirit guided me to explore the visuals afforded outside the tunnels. I was not disappointed. This architectural abstract photo painting was created from a reference picture outside the torii gates making them appear to be sort of like a giant accordion. May you enjoy the musical beauty too.

June 4th, 2021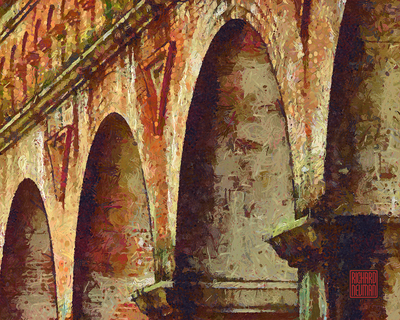 In my opinion, Kyoto is one of the most beautiful cities in the world. The former capital of Japan is filled with countless traditional Japanese architecture. Plus hundreds of visitors renting kimonos dot the streets with beautiful bright colors and umbrellas. There are other architectural surprises such as the ultra modern train station and a roman-style brick aqueduct in the Nanzenji Temple grounds. My three separate serendipity adventures have not been enough as I want to experience more of Kyoto in the future. No matter the style, architectural detail, my focusing on pieces rather than the whole, continues to give me delightful visual pleasure. From my photo painting, may you also experience pleasant feelings.
June 2nd, 2021
The second stop on a private tour my wife and I had scheduled in Xian, China was the Small Wild Goose Pagoda. The ancient tall stone structure is a wonderful example of early Chinese architecture. While the focal point, the plain colored masonry pagoda is in the midst of many other wood buildings painted with bold colorful traditional Chinese architectural decoration and details. The pagoda was imposing, especially when I was close up straining my neck to view the top. While bland in its earth toned color, the rows and rows of stone created a delightful pattern. This visual delight, along with meeting an inquisitive and energetic group of young Chinese students all wanting to practice speaking English, left me with fond memories of the ancient site.
May 30th, 2021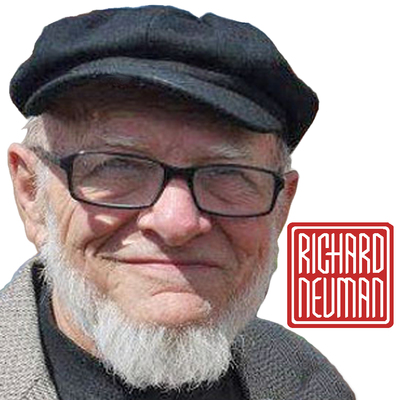 GRANDPA'S BARN
Since my pre kindergarten painting of grandpa's barn I have been fortunate to experience a huge variety of buildings and spaces on four continents. A connoisseur of particular ages, styles or structures, I am not. I find enjoyment in most everything. Ancient to modern, huge to tiny, impressive to humble, New York City to the Forbidden City. So many places I have ``been there, done that '' and in many incidents want to return.

EXAMINING THINGS UP CLOSE
Whether a cathedral or a city, my approach to each adventure is to wander examining things up close. I take countless photos, some of which become the basis of my semi and abstract photo painting. The final artwork is unique as it combines much more than applying a few filters. It involves over sixty years of design experience, sophisticated digital tools, a sensitive eye and feelings.

SHORT STORIES
Behind every painting is a short story. Anecdotes, location of the image, why I was there, colors, impressions and feeling. This introduction is my first blog. Each Tuesday and Friday paintings and stories will be posted.

LIKE TO SHARE A STORY ABOUT ARCHITECTURE?
Email: richard@richard-neuman-artist.com